Is walking for charity part of the UK culture?
We start charity walking young…
In the UK, walking for charity is something that seems to be positively ingrained into our national psyche. Most of us almost certainly did at least one fundraising walk while at school and if you were ever a Cub, Brownie or Scout or strove for a Duke of Edinburgh award, rounding up family sponsors and doing a charity walk was inevitably an important part of the experience.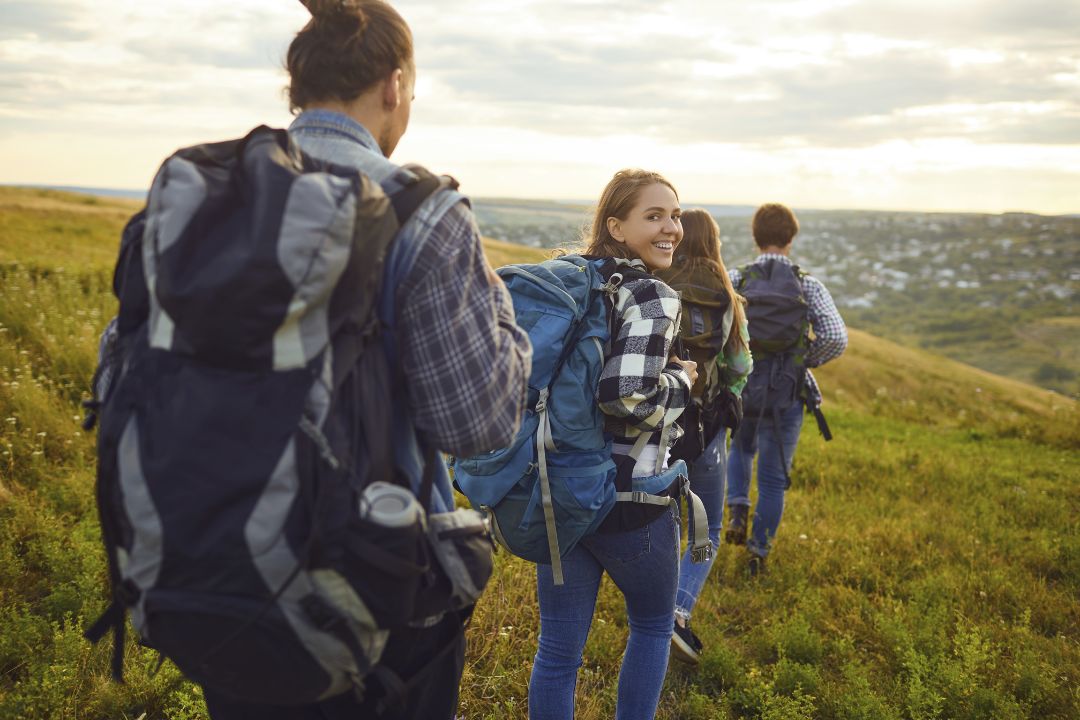 But why continue to walk for charity and what are the health benefits of doing so?
At one level, we're all beginning to accept the mantra that walking is good for us, but did you know that walking for charity has a particular (and potentially long-term) benefit to the brain?  According to the Mental Health Foundation, helping others creates a sense of belonging and builds social self-esteem and personal optimism.  There is even some evidence that when you help others, it can promote long-term changes in the part of the brain linked to happiness.
A charity walk combines the benefits of helping others with the healthy outcomes from outdoor exercise, creating a virtuous and multi-layered circle of personal motivation and reward (read how doing a charity walk can be doubly good for you). And this doesn't always mean that it has to be a marathon walk – there are options like trundl where even the shortest distance can be added up towards a collective fundraising goal. Did you know that even as little as one hour of walking a week can lower the risk of coronary heart disease?  Or that an additional 15 minutes of brisk walking a day could add up to 3 years on life expectancy? (source: BUPA)
How does it benefit the charities and what are some walking for charity ideas?
An assessment in 2019 calculated that more than £75million was raised through non-competitive sponsored walks in the UK alone, giving much-needed income injections to charities that have been hit by the decline of cash donations.
Sometimes, smaller charities are recipients of donations raised through a localised charity walk, like the Bartlow 3 Counties Walk, where a small entrance fee goes towards management of the event as well as the donation.
Another option is to join an organised walk that can include self-funding targets for a charity of your choice.  An example of this is the Jurassic Coast Challenge, which offers a range of distance challenges, with a variety of participant fees and fundraising options entailed.
Charities are increasingly running events themselves, where often a fee plus a minimum fundraising target is involved in return for being able to enjoy an organised walk or run in good company and in lovely locations.  Macmillian Mighty Hikes has got this down to a T with their 27 annual hikes that are staged across the country and British Heart Foundation provides fantastic support for DIY charity walking with their Just Walk initiative.
Other charities may organise walks or runs to support the health of their own community. Cancer charity MOVE hold a '5K Your Way' on the last Saturday of every month at a number of Parkrun events where those living with or beyond cancer plus family and friends can come together to do (literally) 5km their way.
To find a nearby charity walk, a simple 'find charity walks near me' search will help you identify some options close to you. Otherwise, you can look on a reputable magazine website like Country File for some curated suggestions.
Can anyone go on a charity walk and how to prepare for one?
Depending upon the terrain of course, almost anyone can join a sponsored walk, that's one of the great joys of them.  But if you are on an organised event, do make sure that they are suitable for any specific mobility challenge that you or a companion may have.
If you are planning to do your own personal fundraising, many of the UK's National Parks have 'Miles Without Stiles' routes that are more accessible for people with limited mobility (link to the Lake District routes provided for reference).  Or you can find a really local route via a community site like Slow Ways.  Either way, do make sure that you are following marked or signposted trails and complying with Park or local guidelines.
And as to what to take, it will depend upon the length of your walk and the planned route, but in our book, essentials to do beforehand and take with you include:
Chase up sponsorship funding well in advance. Using a site like Just Giving can make it much easier to ask for and collect funds, but it will still require some forward planning.
Make sure someone knows your route, when you're setting off and when you expect to be finished. A physical print out of the route may be useful in case signals drop off.
Ensure your phone is charged, with location turned on and you have a safe pocket for it.
Consider downloading What3words to be able to communicate an exact location.
Dress for the weather and terrain – always better to have a few layers that can be removed or put back on as necessary. Hat and sunscreen if it's hot, fleecy and woolly socks if not.
Do some stretching before you set off (and when you return).
Take plenty of water and sustaining snacks.
A companion or a dog may be welcome, but some people just love the excuse of solo time outdoors too.
Of course, if you fancy doing more regular charity walks, but can't always drum up donations each time, there is trundl.  A small membership fee each month allows you to join in a number of virtual sponsored walks to support a range of outdoor and mobility-related causes, with no need to raise any funds yourself.  While your steps on their own may be few, as a community we are starting to go very far and do good things together.
And while we can't literally give you a cup of tea and slice of cake at the end of it, there are a number of personal rewards built into the trundl experience, so there's a bit of being kind to yourself involved too.